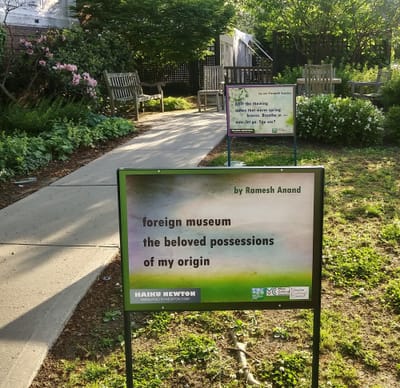 In early May 2022, the inaugural haiku signs were "planted" in two public parks: Newton Centre Green (banner photo, above) and Capt. Ryan Park. The signs remained there for two weeks, then were moved to the Upper Falls Greenway and the Waban Library.
On June 1, the signs traveled again – to the Newton Senior Center, at 345 Walnut Street in Newtonville, and the Nathaniel Allen House, 35 Webster Street in West Newton. The poems remained at the Allen House until July 23, when several of them moved back to the Newton Centre Green, to be part of the Linda Plaut Newton Festival of the Arts. The poems were accompanied by an interactive Haiku Hut.
The signs at the Senior Center (see photo at left) remained a few weeks longer.
As one passerby said of the signs, "They made me stop, think, and breathe." Another noted that the poems "talk to" one another, creating "an amazing and meaningful" respite in the midst of bustling village centers.
The project ended with an online reading of some of the poems, by the poets themselves. That reading can be seen on Elizabeth's series,
Poetic Lines
, which airs on NewTV.