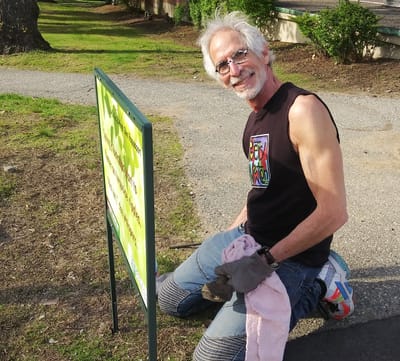 Poetry is always in bloom in Newton, Massachusetts – on sidewalks, in parks, and through a variety of events and public readings.
To celebrate spring 2022, the Haiku Newton project invited poets to submit haiku in March. We received nearly 200 submissions, which came from various states and two foreign countries. A panel of judges selected 20 winning poems – not an easy task! – and project co-director Grey Held (pictured) created the haiku designs.
Each display panel features two haikus – one on the front, one on the back – that address some aspect of the theme Renewal: Celebration, Hope, Reemergence, Nature, Connection.
This project is generously sponsored by the Newton Cultural Council, Mass. Cultural Council, and Newton Community Pride.